Mosquito Fogging
27 June 2020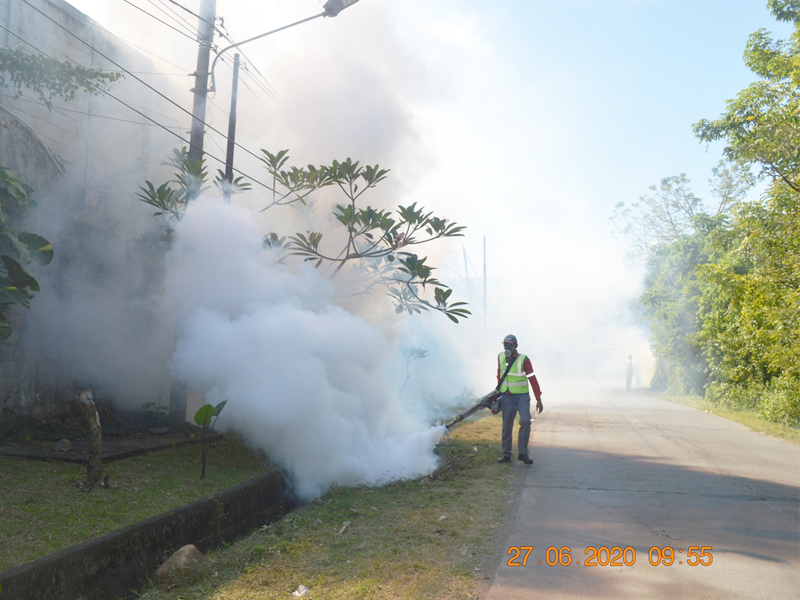 In the midst of the Covid-19 pandemic, dengue fever still being a threat to humankind, therefore preventive actions must still be implemented. To anticipate, prevent and eradicate the aedes aegypti that spreads dengue fever, PT Comextra Majora in collaboration with Rentokil Initial Indonesia carries out fogging activities in residential areas located close to the factory. This activity is one of the social activities that is routinely carried out by PT Comextra Majora every year.  
Fogging is carried out along Jalan Salodong and Villa Mutiara Indah and reaching around 500 houses. This fogging activity uses insecticides to kill adult mosquitoes, while the larvae can still develop become adult mosquito, therefore we also encourage the society to continue to implement additional actions to prevent mosquitoes from keep developing after fogging. The additional actions is the 4M plus actions which are closing water reservoirs (
menutup tempat penampungan air
), draining/brushing water reservoirs (
menguras tempat penampungan air
), burying used goods that can hold water (
mengubur barang bekas yang dapat menampung air
), periodically look for water tray that potentially become a place for mosquito to breeding (
memantau wadah air yang dapat menjadi sarang nyamuk
), using mosquito repellent (
menggunakan obat nyamuk
), etc.  
By carried out fogging and 4M plus actions, it will greatly help prevent dengue fever and indirectly you have helped to reduce the incidence of dengue fever in Indonesia.